Fire Starter Sessions Group Coaching Program Optin Page
Can you even think of how you want your life and career to be in 3 months, a year?...
Or are you stuck in a survival mode, reacting day-by-day, hour-by-hour?...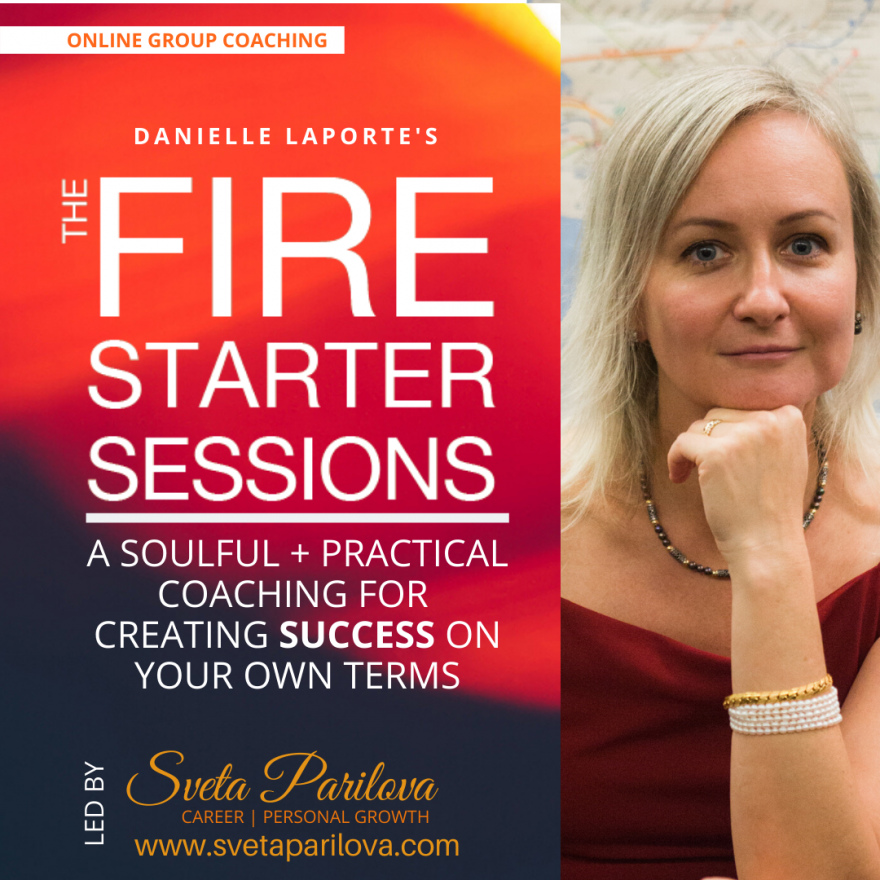 You are dealing with A LOT!
But staying in a reactionary mode is detrimental to your career and life, especially during uncertain times.
You can actively participate in creating your future.
You'll love your work and life because you'll have a new way of doing things:
Confidently say yes/no to tasks and requests

Manage your time and projects

so that it's nurturing to you, too
Have the tools to deal with uncertainty
Feel confident about your contribution at work and outside it
Have support, connection, and a sense of

belonging
Be a confident leader to yourself and others
Bring ease

into your life
Feel whole
Follow your true strengths and let your desires lead the way.
🔥

Are you r

eady to take charge and create success that you want?
If yes, sign up below to be notified about the next session!

Click here to be notified when the next session starts.
Does this sound like a familiar daily grind?
Eat, Work, Sleep… Eat, Work, Sleep…
You endlessly respond to external demands.
Feel burned out and exhausted.
Pleasure... What is pleasure?!
Not sure what's all this for, what's your impact? When will it end...
Sometimes you wonder whether you fit in at work.
You've done

a lot of soul-searching, personal development, yoga, meditation, and... you have

no idea how to transfer any of that into reality...
You went on an amazing trip or retreat, you've learned a lot. Then back to work and

the effect's gone in two days... (don't worry the retreats will be back, but this feeling will not change, unless you deal with it)
You feel yourself with friends and loved ones...

but at work, you're not sure who you are...
You feel disconnected, silo-ed, split...
🔥

The Fire Starter Sessions program is designed to integrate your life,
bring work in line with your values, and give you confidence and ease.
All this without changing your job.
Defining success on your own terms is some of the most powerful work you can do for yourself
and one of the greatest contributions you can make as a leader.
But first a warning!




To feel whole at work and outside it, have a meaningful impact without the overwhelm
requires a shift from a traditional approach to managing your life and your career.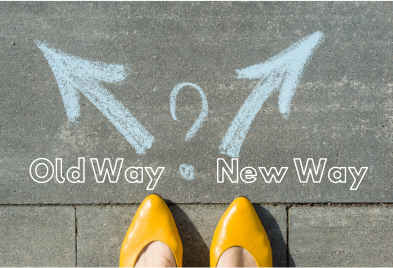 The Old Way: Follow external demands
Work as hard as you can, hope to get recognized.
Tolerate and stay in isolation
No time to take care of yourself
Try to be someone you think you "should"
New Way: Follow your desires
Follow your own definition of success
Develop an authentic personal brand based on your true strengths and values
Feel in control of your work and life
Make a meaningful contribution at work and to the world
Being your true self is the most effective formula for success there is.
🔥

This's why I am thrilled you're interested in the Fire Starter Group Sessions Group Coaching Program.
When you follow your desires, you see value in yourself and in what you do,
you make a meaningful impact while protecting your boundaries.
You get the job done and enjoy life. You get noticed, recognized, and appreciated, naturally.
And you can start doing it right where you are.

Sign up below to be notified about the next session


What others say...
Francoise H, Operations Manager
"I came to work with Svetlana at a very difficult period of my life - right after experiencing a burn-out and losing my job. She totally helped me live better the conditions I was given to live in. Her coaching helped me identify my strengths, problems, and quickly find solutions and put them into practice. Her approach is very straightforward and hands-on. There is no talking for hours to have you unlock issues. Her insight, intelligence and to the point reflections/questions will take you right where you need to go to free yourself and move on. I strongly recommend Sveta if you are serious about unlocking yourself. I have worked with 3 different coaches in the course of my life, and this experience has by far been the most interesting in terms of insights, and results."
Anna, Senior Compliance Professional
"I had a great experience attending Sveta's sessions. Sveta and I used to work together years ago, and I was curious to see what her new career coaching program could offer. In particular, I liked her practical advice on being authentic and finding a lighter and easier way of working and living – skills that we may have forgotten in the intensity of our careers.
Her program also provided me with concrete tools to 'create ease within the storm', and to manage day-to-day challenges in a focused way.
Lastly, I enjoyed connecting with other working women from different industries and get inspired on ways to put the ideas from the program into action and achieve more."




This 3-month program will help you: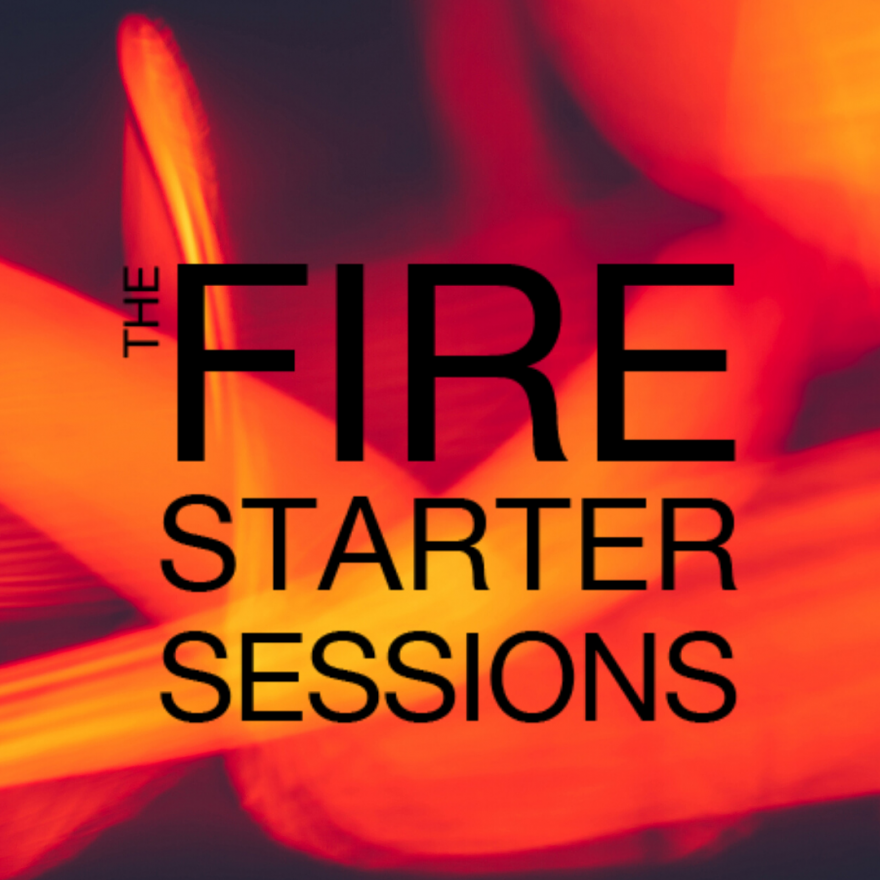 🔸 Get clear on your strengths and discover your unique leadership style
🔸 Re-connect with what's important to you
🔸 Gain powerful tools to integrate your work, life, dreams, and desires.
🔸 Establish a relationship with money that supports your goals
🔸 Learn to manage time to reach your goals and maintain wellbeing
🔸 Deal with fears/blocks that stop you from getting what you really want
🔸 Create an action plan guided by your desires

You are at a crossroads. You want a change, but you've worked so hard to get where you are,
and losing it or starting from scratch is not what you want.


The truth of the matter is that there is no "old way".
The change is upon us, whether we want it or not.

You can either participate in creating your future or wait until it is created for you.
You may not like what you see if you adopt the wait and see strategy.
If you're ready to take charge and be the creator of your future, then the Fire Starter Sessions program is for you.



What if the only change you need is to reignite your soul fire?

🔥


Remember who you were before the world told you who you need to be.

Imagine what would it feel like to:
🌸 Live a lighter, more enjoyable and purposeful life
🌸 Be excited to wake up to go to work in the morning
🌸 Be proud of the impact you make in the world
🌸 Be yourself and lead others
That is why I am so excited to introduce the Fire Starter Sessions Group Coaching Program
What others say...
Maya, Program Director
"Svetlana is a truly unique coach, she puts you at ease right away with grace, tact and genuine curiosity.
When she started working with me a few years ago, l was confused but skeptical that a stranger can see through the noise of your own mind, but she did. She empowers, guides and provides tools to hear the voice that we want to hear, but often mute instead, both professionally and personally. And then, she unapologetically helps you confront fears and excuses for a more fulfilling, meaningful, and joyful life and career. Success follows. For Svetlana, coaching people is not work, it's a calling."
Amber, Director of Education and Community Partnerships at the National Museum of Industrial History
"The Fire Starter Sessions allowed me to consolidate a lot of work in personal development (movement, feeling-based practices) that I did outside work. It is really helpful. When I started the program, I could not figure out how to make it relatable to my everyday life. The program helped me externalize the internal processes that I was working on. I can also explain and communicate to others what I do and practice. It makes me feel holistic.

When I am thinking about making decision day-to-day, how do I want to approach a problem or a meeting, I can reference the tools that I gained and get clear on how I want to schedule my day or what I want to do next."
Here is what's included in the Fire Starter Sessions Group Coaching Program
10 weekly calls


About 3 calls a month plus an integration week is optimal for learning new practices without the overwhelm. The live calls with a coach will give you an opportunity to ask questions, get individualized support, and integrate the new material.




Carefully designed curriculum


To walk you step by step through the process from gaining clarity and awareness about the "old habits" to building new ones and implementation

.


Carefully selected workbooks and resources for individual work


This course is highly practical. The goal is to implement new habits and ways of thinking in real life. It is nice to learn things but being able to integrate it into your life is priceless. Doing these simple worksheets will help you get the result.




A Private Facebook group


Without support, the environment takes over. The group will keep you connected to your tribe. It's the place to ask questions, celebrate successes, receive support, and ensure consistency in building new habits

.


Private, online communication with the coach


The secure client portal will give you timely, confidential support for any stuck spots and help with real-life situations

.
Don't waste time trying to "manage" it, or figure out on your own.
Isolation and tolerating are two of the greatest mistakes of the old way!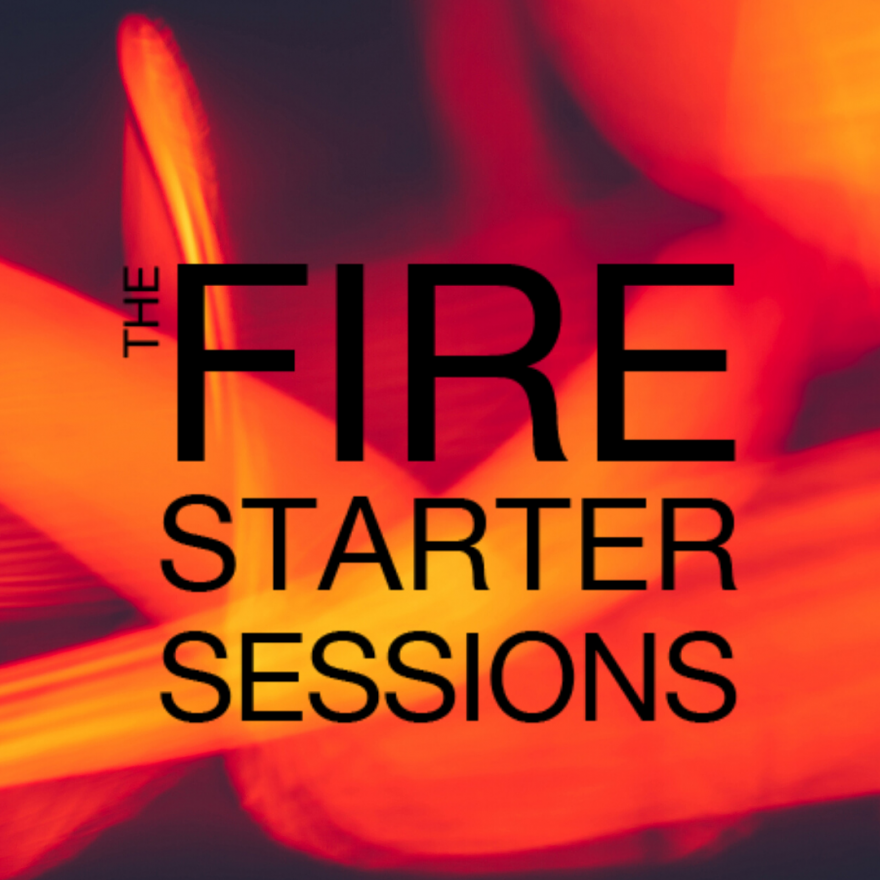 Who is this program for?
The Fire Starter Program is for you if you:
Have had enough of living in the "land of toleration" and want to gain control of your life and work.
Want to experience life fully and have a meaningful contribution at work.
Are ready to believe that there is a different, easier, and authentic way of being successful at work and in life.
Are willing to "show up" and do the work to create lasting change in your career and life and benefit yourself and others?
Who is this not for?
This Program is not a good fit for you if you:
Are coming up with excuses why you cannot do or change anything now. You prefer to wait and see, let someone else decide things for you.
Cannot allocate time to the program because you have long-term priorities other than improving your work and life experience.
Are not prepared to open up to new possibilities and take steps to improve your situation.
Are not willing to give up judging yourself and others to get results.
How much is it worth to you to...
Finally, get off the hamster wheel of your to-do list and stop the burnout?
Start living your life fully and enjoy your day-to-day?
See a meaningful contribution, feel appreciated and valued at work?
Do things that feed and nurture you?
I believe it's invaluable!
Isn't it the time to start living your life? If you've had enough of following external demands while wondering what's all this for, then join the program. You'll be grateful for choosing YOU; your family, friends, and colleagues will be too.



Fire Starter Sessions Group Program Course Outline

Part 1. Setting the stage
Session 1. Passion. Get to know your strengths and weaknesses, and leverage them.
Session 2. Ease. Lift weight off your shoulders. How to start living easier, lighter life. Now.
Session 3. See where you are and where you want to go. Start "strategic dreaming".


Part 2. Get into action
Session 4. Fear. Make it your ally.
Session 5. What business are you really in? Start doing more of what you want and less of what depletes you, naturally.
Session 6. Your integrity brand. How to feel yourself and succeed at work and in life.

Part 3. Setting you up for your success
Session 7. Time. We are so busy; there is no time for anything. We will look at how we can manage time rather than the time manages us.
Session 8. Money. Money can be a loaded subject, which can keep us stuck for years. We will untangle your relationship with money to allow you to move forward.
Session 9. Support network. Behind every successful person, there is a tribe (mentors, experts, coaches, friends, family, etc.). Discover or create your tribe to help you keep moving to your goals.
Session 10. Just do it! Setting up a plan forward for reaching your desired outcome.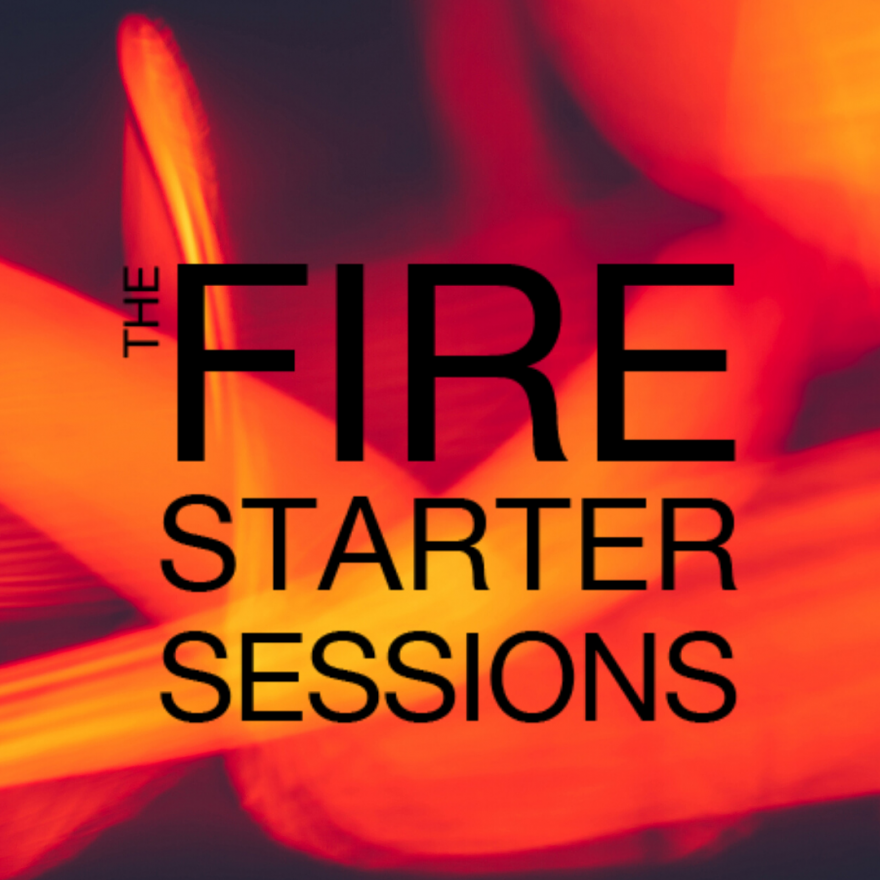 Say "YES" to yourself!

On a personal note
During my career in finance, I got burned out to the point where the only possible next step I saw was OUT. My relationships were rocky, my health - neglected. I wondered what's all this for?
But I didn't leave. I found the way back, implementing small changes bit by bit. Essentially, I tested and implemented the process of the Fire Starter Sessions program. I rebuilt my energy and changed how I did things at work (staying in the same role).
This drastically changed my experience at work and in life. I continued being successful, with much less stress. I became fulfilled.

The card on this picture is a #truthbomb (a tool that's part of the program). Mine says No to Resentment, Yes to Inspiration. Do you want to know your #truthbomb? Join the Program!


Q&A
What is the time commitment required?
There will be 10 one-hour calls (three weeks on and one week off). Doing the worksheets will take you about 30 minutes on average (you can take more time thinking things through if you'd like). Time spent at Facebook group and "just in time" coaching via the client portal is yours to manage. Altogether, we are talking about 1.5-2 hours a week.
When will the calls be?
The current plan is to have the group calls on Tuesday at 1 pm ET (6 pm London, 7 pm Continental Europe), so you can do this during your lunch break or after work. However, there is the flexibility to coordinate with the group and choose a different time that works for everyone, if need be.
What if I cannot attend a call?
Participation in the calls live will allow you to ask questions, get feedback, and provide the best experience from the program (I recommend to "be greedy" to get the most out of your investment). However, if you cannot make it on a call, recordings will be available for you to catch up on your own time.
What about confidentiality?
What happens on our calls stays there. Having a safe and secure container will help us create magic and drive results. Everyone who signs up to the program, including you, will agree to protect the privacy of each other.
What this program is not?
a. A lecture without practical application
b. Venting sessions
What if I have other questions that are not covered?
Schedule a call with me using this link.
Invest in you and your future!
Sign up below to be notified about the next session!